First off we have  the military look. its everywhere. The always fashion forward Kim Kardashian sports the trend fabulously mixing masculine and feminine touches together.
Heres a cute military romper i found inspired by Kim Kardashian from Guess.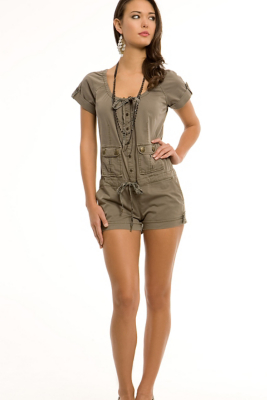 I am absolutely in love with the military jacket also known as blamain so cute and trendy and quite versatile. Here's a few excellent examples.
& the always trend setting Victoria Beckham
& last but not least Rihanna
Lets face it there are not many AFFORDABLE places to find balmain jackets but you can switch to the military jacket which is a good alternative. Here are some that i found.
Another Jacket
Next we have  the military boots which im not as crazy about but if worn the right way can look effortless and stunning. Although im not the biggest fan of Miley Cyrus she is someone who knows how to wear the military boots…well most of the time.
Heres some more people sporing the Military boots
I tried looking for where to buy military boots-all the boots they showed me were either for hiking, or camping. yah so i kinda gave up. This is one of those style items that you really have to go digging for.